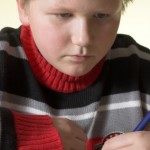 Getting accommodations from the College Board (which administers the SAT, AP exams and others) or from any other standardized testing or professional licensing boards, is even more difficult, and is governed by a whole different set of laws, than getting accommodations in public grade school.
When a parent of a disabled child come to me for help getting accommodations on these exams, here are some of the key questions I ask (none of which are determinative in and of themselves):

1.  When was your child diagnosed with a disability?
2.  Has your child been getting accommodations for tests in school?
3.  Does your child have a private psycho-educational evaluation?
4.  Can you compile documents from the last 3 years (at least) showing that your child has been accommodated for school tests?
5.  Does your child have a 504 Plan or IEP (in public school) or a formal private school plan granting accommodations?
If your answers to the last four questions are "yes," you can feel more confident that your child can get entrance exam accommodations.  When I deal with the testing boards, I have a very different focus than most psychologists who do so.  I have been very successful winning accommodations for myself and others by highlighting the student's deficits which on standardized psychological tests fall in the below average range.  As a general rule, in order to get accommodations on these types of tests, regardless of how high your child's IQ is, their performance in relevant areas must be below average.
Remember that the testing boards get thousands of applications for accommodations for each test date, and don't have the time to sift through multiple documents to make their determinations.  Your best approach is to write a cover letter in as straight forward language as possible high-lighting those relevant areas in the student's psychological evaluation which are below average.  Also, the boards tend to deny accommodations the first time a student applies for them.  Be persistent – just as your disabled son or daughter has to be every day.
© Copyright 2009 Florida School Partners, P.L.