National Presentations, Publications and Quotations by Allison Hertog on Response to Intervention (RTI)
Response to Intervention (RTI) is a multi-tier approach to the early identification and support of students with learning and behavior needs. RTI is mandated in many states (including Florida and New York) and used to varying degrees in most states in the country.  The RTI process begins with high-quality instruction and universal screening of all children in the general education classroom. Struggling learners are provided with interventions at increasing levels of intensity to accelerate their rate of learning.
Learning Ally's Spotlight on Dyslexia Virtual Conference, December 5, 2014.  Candace Cortiella and Allison Hertog presented on Parent Rights in the Era of RtI.  Click Here for the Power Point.
LRP's Charter School Special Education Compliance Advisor, November, 2014.  Allison Hertog quoted in cover story: Implement quality RtI framework to support at-risk students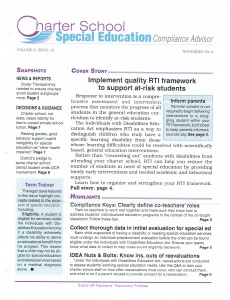 National Center for Learning Disabilities Guide – Parent Rights in the Era of RTI.  Written by Candace Cortiella and Allison Hertog.  September, 2012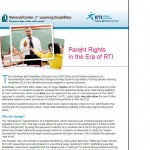 Learning Forward RTI Presentation – Legal Framework.  Allison Hertog's presentation "The Legal Framework for Advocating for RtI at Your School and District"  Presented with Leslie Laud, Ed.D. of thinkSRSD at Learning Forward Annual Conference  July 25, 2012, Denver, CO
Advocacy Institute Webinar:  The RTI Ruckus:  What Special Education Advocates Need to Know.  Allison Hertog presented with Edward Schultz, Ph.D., Assistant Professor at West College of Education of Midwestern State University, Wichita Falls, TX.  February, 2012
Council of Parent Attorneys and Advocates Annual Conference: Understanding, Navigating & Challenging New Approaches to Identification of Specific Learning Disabilities.  Allison Hertog presented with Kurt Hulett, Ed.D. (standing in for Candace Cortiella) and Edward Schultz, Ph.D.   March 5, 2011, San Antonio, TX
Council of Parent Advocates and Attorneys Annual Conference.  Finding Your Way Around RTI to an IEP.  Allison Hertog, Presenter.  March 14, 2010, St. Louis, MO
How RtI Affects Your Disabled Child.  Presented by Allison Hertog.  CHADD – Palm Beach.  October 13, 2009, Lantana, FL
RtI: Death of SLD but Not of McKay!  Presented by Allison Hertog, Esq., M.A., McKay Coalition of Private Schools Annual Conference.  October, 2009, Miami, FL